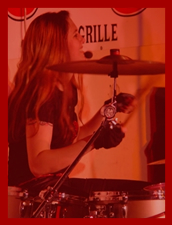 Management Services
100 Proof was orginally a rock band managed by Todd Samuels. Todd's sister, April, was the drummer for 100 Proof at the time and often assisted Todd in his duties as manager. When 100 Proof disbanded, April was asked by local Dallas band Pulp Society to use her music industry expertise to aid them in obtaining employment at local clubs. That was the beginning of what is now 100 Proof Entertainment!
President, April Samuels, has since attended several seminars, exhibits, and music industry functions through the Dallas Songwriters Association, Austin Songwriters Group, South by Southwest and the Sony R&B Workshop.
At present, eight artists are managed and booked through 100 Proof Entertainment, however, during April's career, she has booked over 40 different regional bands - handling as many bands as 13 at one time.
April has also worked for Planet Dallas Studios (Dallas, TX) in the Publishing Department, worked as a salesperson for Texas Beat Magazine (Austin, TX), and was the assistant booking agent for the former club, The Basement (Dallas, TX).
April is the owner of 100 Proof Entertainment, owner/founder of Music for Marriage, a volunteer for New Beginning Center, a member of ASCAP and GoGirls Elite, a drum set instructor, endorsed by Stick-Flip, Grover Pro and Silverfox Percussion, and a drummer for hire.